Project Overview
The Moorings is a high-end, self-build project in an area of outstanding natural beauty in Anglesey, Wales. In an excellent position on the seafront with panoramic views across Red Wharf Bay, the client's aspirations from an architectural point of view were to maximise the stunning location, whilst achieving a high-performance home with low energy consumption.
This collaborative project, between MBC Timber Frame and WM Design and Architecture, consists of a three-bedroom, 250m2 detached private residence that has been designed and constructed to achieve the airtightness and thermal performance targets required to meet Passive House standards. The timber frame home has been built incorporating a range of low carbon building solutions from Partel including high performing breather membranes ECHOFOIL EXO and EXOPERM MONO 150 and also the phA Class Passive House Certified components IZOPERM PLUS vapour control layer and CONEXO MULTISEAL airtight tape.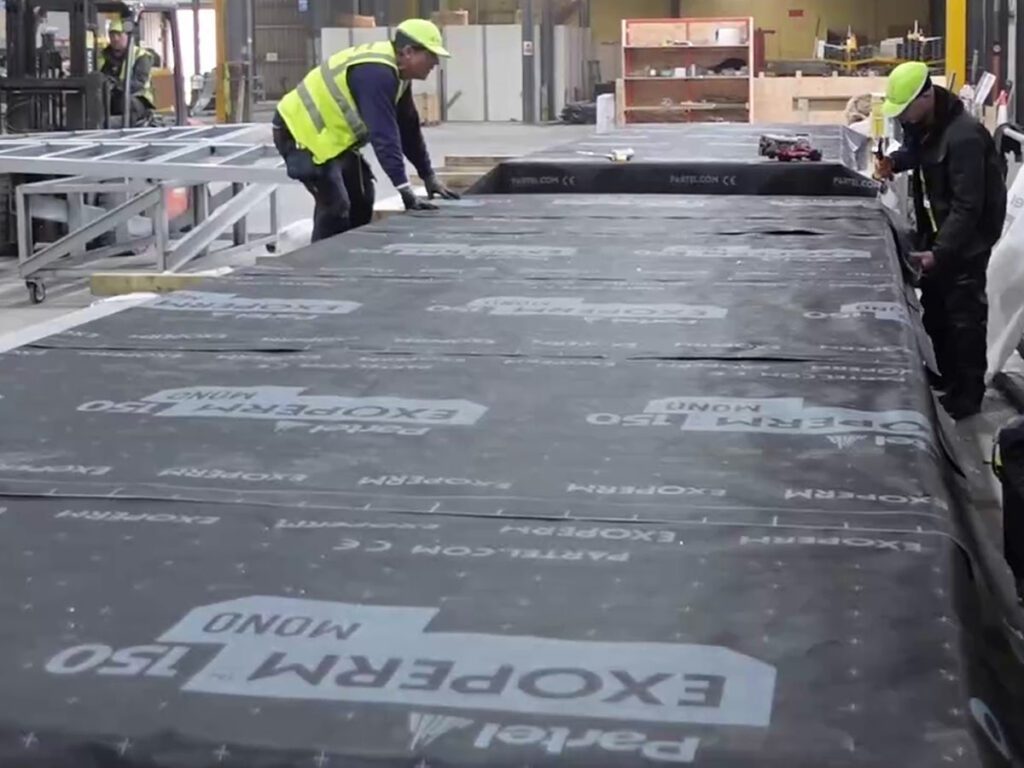 The Challenge
MBC Timber Frame, a specialist manufacturer of bespoke timber frame homes, was appointed by WM Design and Architecture to deliver a timber frame and foundation system that achieved both the architect's ambitious design aspirations and Passive House standards. This involved the design and production of a twin wall timber frame system around the architectural drawings supplied, followed by delivery and installation on-site, ensuring high airtightness standards and energy-efficiency targets were met.
Key objectives of the twin wall construction were to deliver
Airtightness – Less than 0.6 air changes/hour at 50Pa (Pascal)
High levels of insulation – Exterior walls to achieve a U-value of less than 0.15
Thermal bridge free construction
The Solution
Twin Wall System
MBC's 300mm Twin Wall system delivers a U-Value of 0.12W/m2K and is designed to perform to its optimum level when used in tandem with MBCs Passive Foundation system.
The twin stud frame is faced internally with a passive airtight board, and externally with a Medite Vent panel board that has a breather membrane secured to it. With the structure being located on a coastal sea front site, MBC Timber Frame was challenged with selecting a membrane that would prevent salt corrosion, whilst also delivering sustainable thermal performance. Partel's ECHOFOIL EXO reflective breather membrane met these requirements.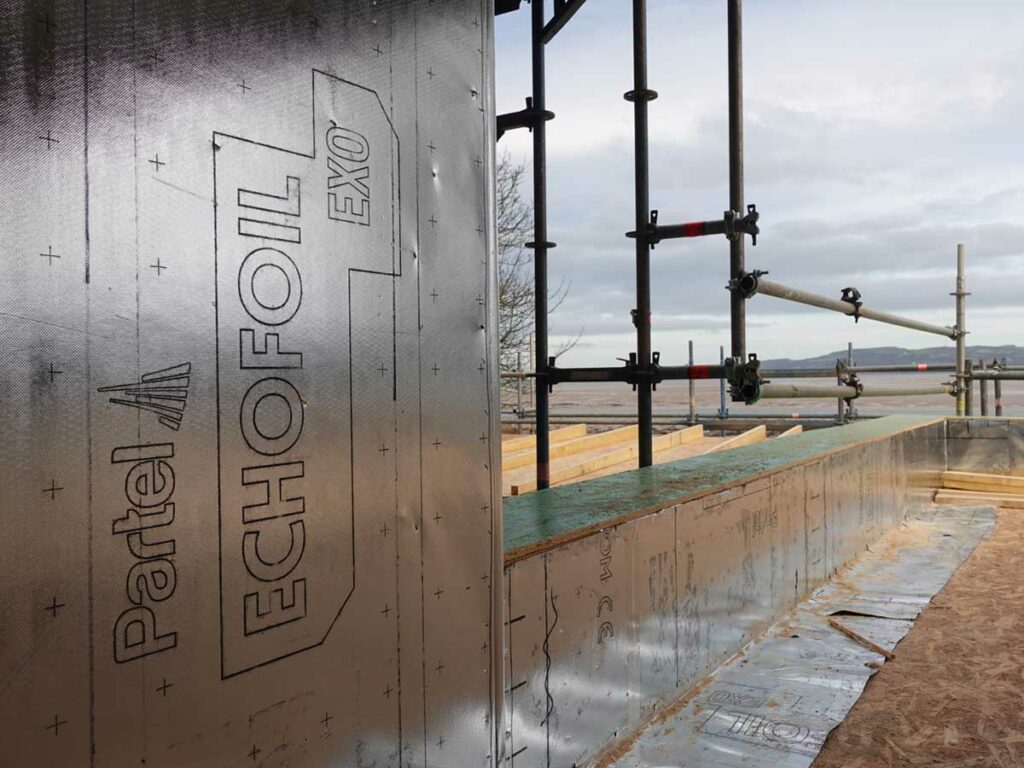 The key thing with ECHOFOIL EXO is that it has a low emissivity <0.05, and also a lacquer coating that protects against exposure to sea salt in the air, obviously really important in this location.

Lee Broomhill
Sales Manager at MBC Timber Frame
On all projects MBC Timber assume responsibility for airtightness. So once the client had the windows installed, MBC returned to site and the airtight board was sealed at junctions with Partel's certified Passive House airtight tape CONEXO MULTISEAL. This ensured the house was completely airtight and draught-free, achieving the Passive House requirement of 0.6 air changes/hour at 50Pa.
The twin wall system also helps to facilitate thermal bridge free construction, an important principle of Passive House design. With this system, instead of a single stud, you have two studs. This means that when the high-density cellulose insulation is pressure pumped on site into the passive wall cavity between the timber studs it is continuous without cold bridges, flowing around corners and uninterrupted from the wall to the roof. The cellulose insulation is made from recycled newspapers, so as well as having an excellent u-value and being a really good thermal insulation, it is actually a very good green, sustainable material.
Roof Design
One of the biggest obstacles for MBC in this project was the bespoke shed roof styles, which were combined with flat 'green' roofs planted with coastal flowers and shrubs. However, MBC's in-house technical and design team rose to the challenge, resulting in an impressive end result that delivered a u-Value of 0.1 W/m2K.
With the project being located on a seafront site, it was important that the roofing underlays used would be able to withstand extreme weather conditions and absorb the site-specific loads from high winds. Partel's EXOPERM MONO 150 was chosen as a suitable membrane for protecting the roof structure, both during and after construction, from the harsh conditions blown into the bay from the Irish Sea. This highly breathable membrane with an SD-Value of 0.07m is manufactured using monolithic technology and UV stabilised spunbond technology, facilitating absolute water tightness and moisture management of the roof.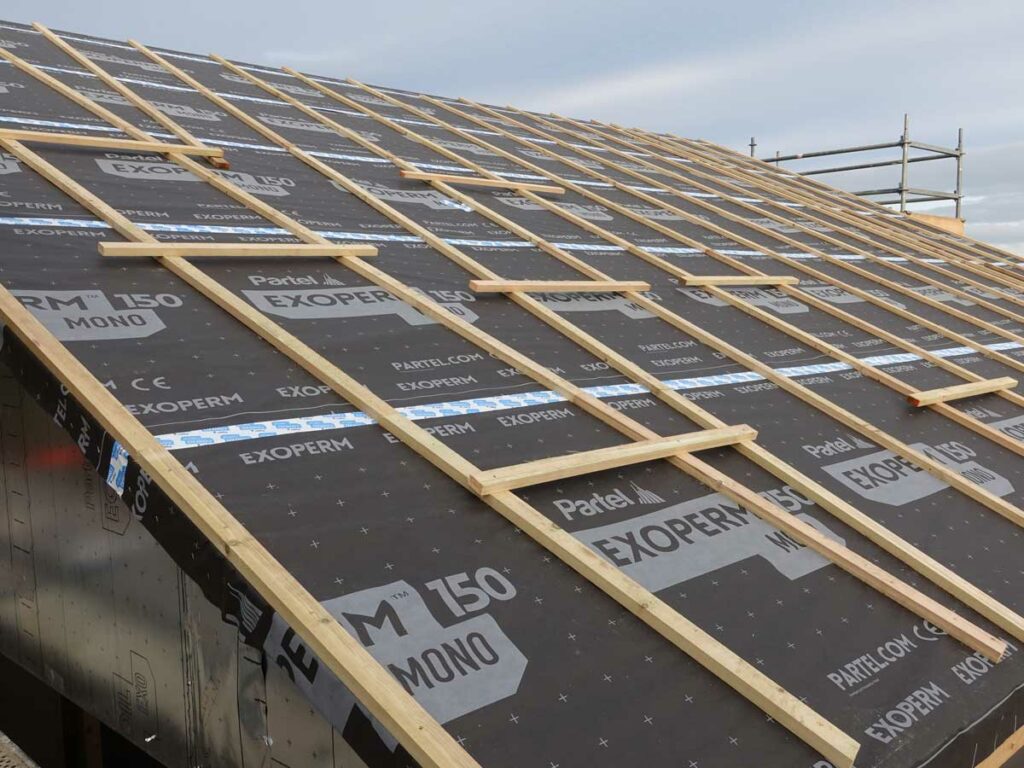 On the shed roof structures of the project, Partel's IZOPERM PLUS, an airtight, vapour control membrane was installed on the warm side of the insulation to deliver against strict airtightness targets and provide optimal protection against humidity. Also, Partel ECHOFOIL EXO, a reflective breather membrane was installed externally on the spandrel panels to act as both a wind barrier, and also to manage moisture and protect against any driving rain that may penetrate the exterior finish.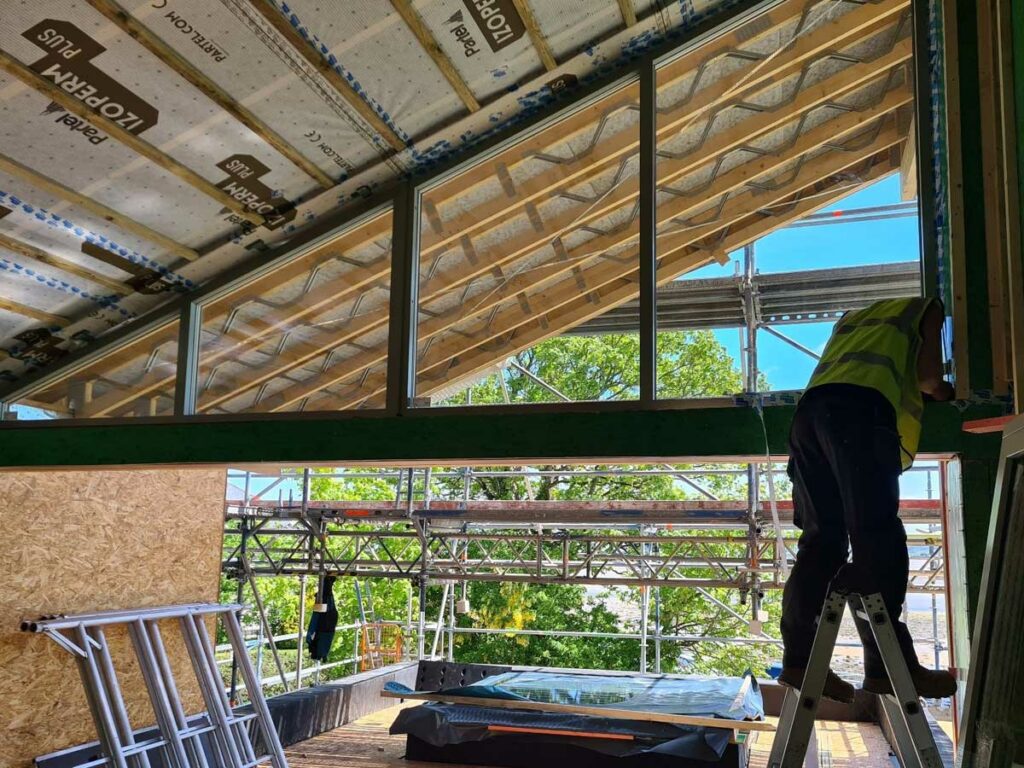 Partel's membranes and airtight sealing tape contribute significantly to the projects airtightness, energy efficiency and achievement of Passive House standards, helping to deliver comfort, quality and lower running costs.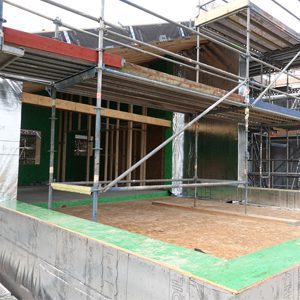 Offsite Contractor: MBC Timber Frame – Lee Broomhall, Sales Manager
Architect: WM Design & Arch. Ltd – Adrian Williamson, Lead Designer
Project type: Timber frame Passive House
Building: Single family house
Completion: 2022