So-called 'modular' housing has been in the news a lot in recent years, with rapid-build factory-made homes mooted as a potential solution to housing shortages in both Ireland and the UK.
Modular housing is just one so-called 'modern method of construction', or MMC, a catch all term for innovative and alternative ways of building new homes quickly, typically in a factory environment. So what exactly is MMC, and does it really have the potential to revolutionise the building industry, as its proponents claim?
Read our guide below to understand the different types of MMC, along with their potential advantages and disadvantages.
What are modern methods of construction (MMC)?
Unlike traditional construction in Ireland and the UK — which usually means building on-site with concrete blocks or bricks — MMC typically involves fabricating most of a building's envelope 'offsite' in a factory setting.
This can range from making timber frame or steel panels in a factory — and then joining them together on-site — through to the offsite fabrication of whole rooms or even complete buildings, which can then be delivered to the client.
Terms such as MMC, modular, prefabrication, rapid-build and volumetric construction are often used interchangeably to describe this sector of the market, but they can mean slightly different things (see below for more).
MMC makes up a growing part of the construction market in Ireland and the UK. It is seen by many as the future of the industry due to its potential to improve quality, reduce cost and waste, and deliver high performance, low carbon buildings quickly.
But there are still significant challenges to be overcome if MMC is to become the dominant way we construct our buildings.
The Evolution of MMC
While MMC today is seen as cutting edge, due the application of detailed design and precision engineering in a high-tech factory setting, the prefabrication of buildings has a longer history than you might think.
In 1609, 'framed houses' were sent from London to Derry after the town was destroyed following a rebellion by the local chieftain Cahir O'Doherty. In 1624, English colonisers brought a panelised wooden house with them to Cape Ann in Massachusetts.
Later, in the early 20th century, Sears Roebuck began selling mail order kit homes in the US, and
the 1930s the Tennessee Valley Authority created "truckable" trailer homes that came with heating and electricity systems pre-installed.
In the UK, there was significant emphasis placed on prefabrication to meet urgent housing demand as World War Two came to an end, and over 156,000 prefab homes were built across the country by 1948.
Meanwhile in Ireland, RTÉ ran a story in 1966 about a brother and sister in rural county Carlow who moved from their "poor, damp, cold" one-room thatched cottage into a "new modular type prefabricated" house that was imported from abroad. The house cost the council £1,250 compared to a typical new build cost of £2,000, according to the council engineer.
In Ireland, particularly from the 1980s on, schools began expand by putting prefabricated classrooms into their yards, and generations of Irish schoolchildren probably remember these as chilly and uncomfortable places for lessons on dark winter days.
But MMC has come a long way from the day of cold and draughty prefabs.
What are the different types of MMC?
Terms such as offsite construction, MMC, and volumetric construction are often used interchangeably, and while they are all related, they can mean slightly different things.
Modular construction
In modular construction, standardised and repeatable building elements are made in the factory, then brought to the building site and joined together. Modular building can include construction of either two-dimensional panels or three-dimensional volumes (see below).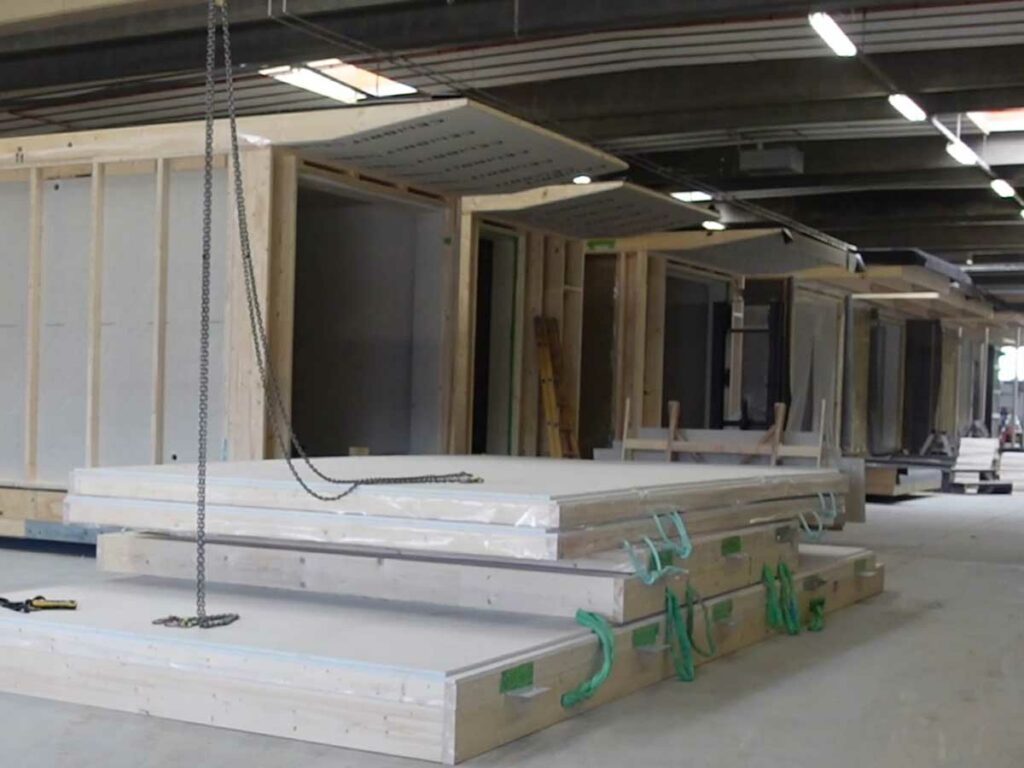 Volumetric construction
In volumetric construction, larger three-dimensional building elements or 'volumes' — such as whole rooms — are made in the factory, brought to the site and assembled without the need for additional superstructure. Building services are usually pre-installed, as is the internal fit-out, but facades and cladding are added on site.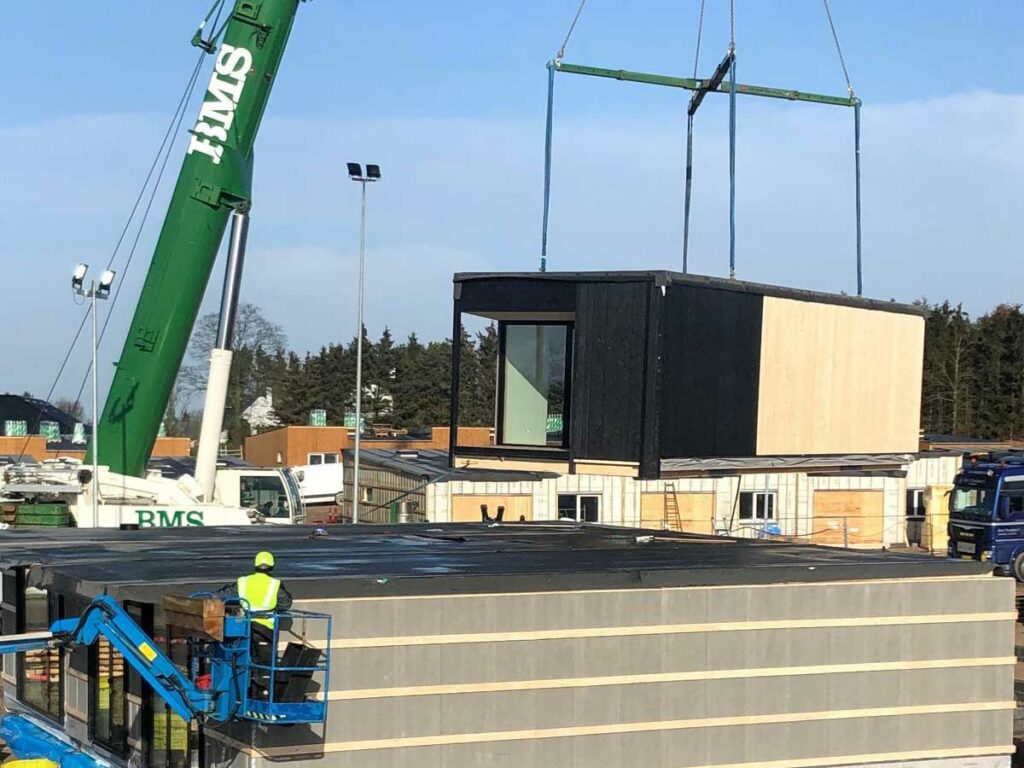 Panelised systems
This is when two-dimensional wall and roof elements or panels are brought to the site and assembled to make a three-dimensional building. Panelised systems can include timber frame, types of mass timber such as CLT, light gauge steel frame, or structural insulated panels.
Sub-assemblies
Sub-assemblies are individual building components that are made in the factory and then brought to site and joined with other elements to form the building. Sub-assemblies can include parts such as chimneys, porches, roof trusses etc – sub-assemblies are often used in buildings that are mostly constructed on-site, but for which certain complex elements need to be made in the factory.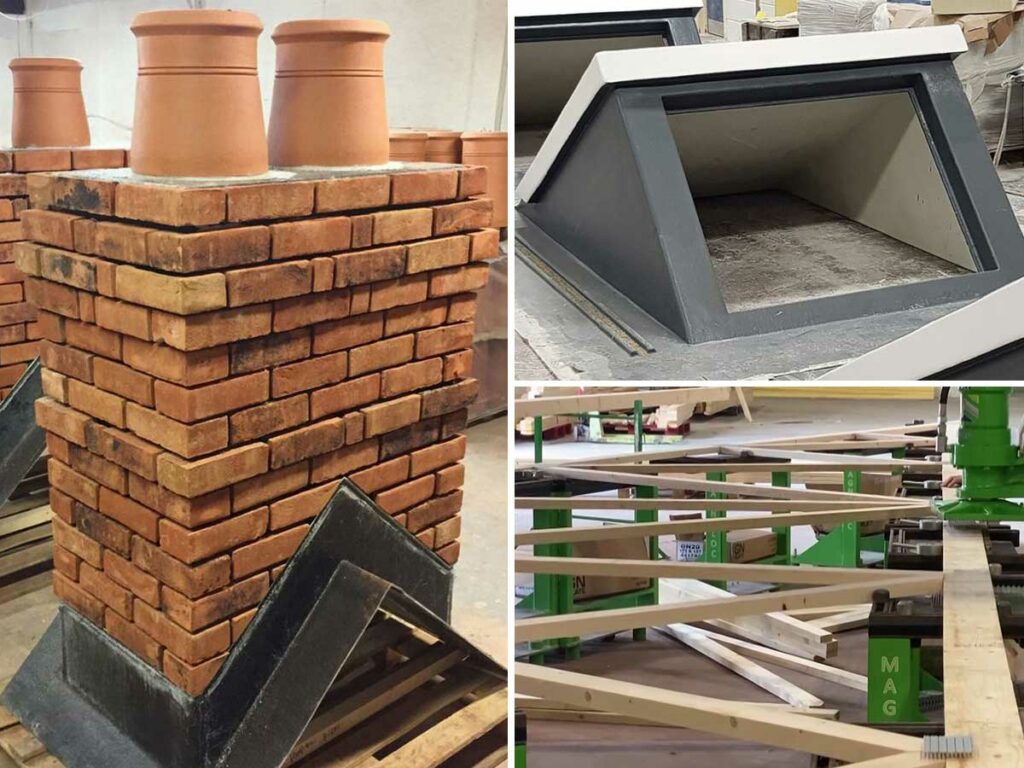 What are the main material forms of MMC?
Because they are largely completed in the factory and then transported to site, MMC buildings are usually made of more lightweight materials and build systems. These can include:
What are the advantages of MMC?
MMC is seen my many as the high-tech future of the construction industry, and has been held up by its proponents as having the potential to solve many of the key challenges the industry faces, including the need to urgently build houses while decarbonising rapidly.
So, what are the main advantages of MMC?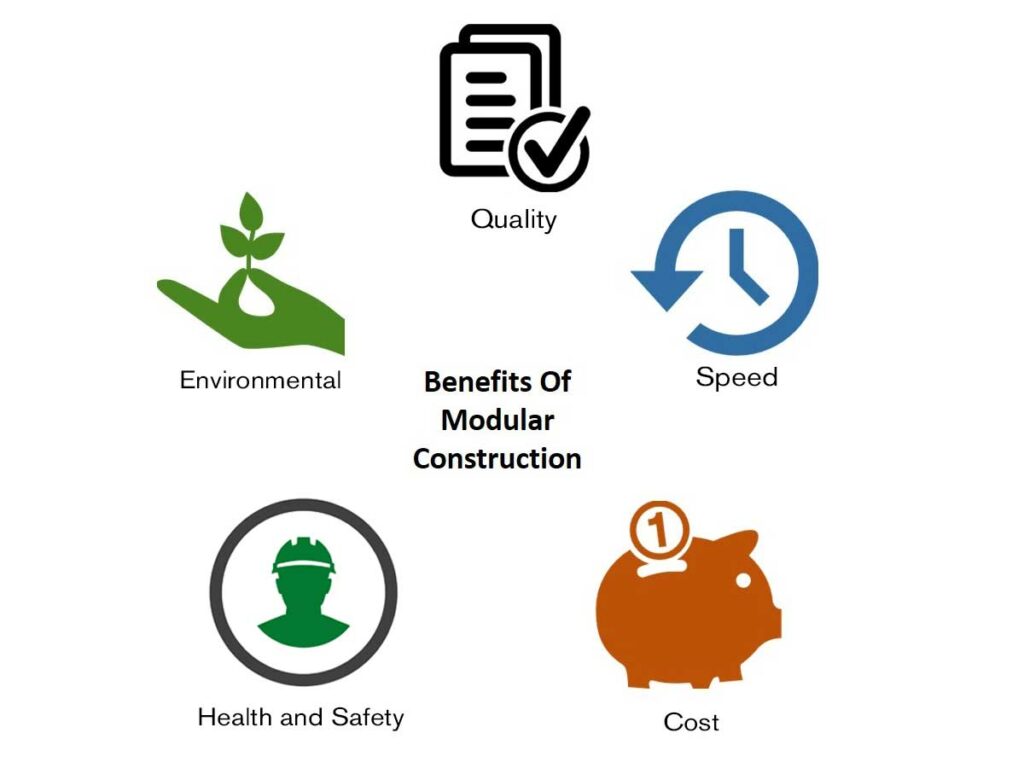 1. Quality
Because it allows for building work to place in warm, dry and comfortable conditions, offsite MMC makes it easier to deliver the kind of precise detailing and craftsmanship needed for high performance building standards such as passive house. It is also easier to ensure that a structure meets design specifications, and to check it for errors, when standardised and automated processes are used in the comfortable factory environment.
2. Speed
MMC allows for faster build times because it enables building fabrication to take place at the same time that ground works are progressing on site. According to a report by global consultancy McKinsey, modular projects are typically completed 20% to 50% faster than traditional build. This means that MMC could help to scale up housing delivery and meet the housing challenges faced by Ireland and the UK. However, modular projects may take longer to design initially, as architects and engineers are less practised in designing for MMC. But in the long run, repeatability and automation have the potential to make MMC significantly faster. Once modular building elements arrive to site, they can be assembled rapidly by a small team.
3. Cost
Projects built using MMC can achieve up to 20% cost savings, according to McKinsey, but in reality, the cost of MMC projects can vary a lot due to the new and untested nature of the market. In the long run, leaner production processes, shorter build schedules and the repeatability of MMC units should all reduce costs. Working hours should be used more efficiently in the factory than on the building site, too, with less down time. But in the shorter term, there may be more costs while the industry grows used to a new way of doing things (see below).
4. Health and safety
The controlled factory environment, with better lighting and protection from the weather, offers a safer and less accident-prone environment for building assembly to take place.
5. Environmental Benefits
Because building in the factory environment allows for greater quality control and more precise craftsmanship, it makes it more suited to delivering super-insulated, airtight buildings with tiny energy demand (see below).
Challenges of MMC
While MMC offers significant advantages over traditional build, it must still overcome a number of critical challenges if it is to realise its huge potential.
1. Costs
While MMC may save money in the long run, once factories are built and have standardised and repeatable processes up and running, the capital cost of building a factory in the first place is significant. Initial design costs can be higher too as architects and engineers adjust to designing for new ways of building. Designs may need to be more detailed and exacting too, as there is less scope to amend plans once on site.
2. Finance
Lenders are often wary of innovative or unusual build systems, even more so since the Grenfell Tower fire, so developers and self-builders may find it harder to get insurance and finance for MMC buildings. In the UK, home warranty providers are developing a set of standards for MMC to make it easier for such homes to secure warranties and mortgages.
3. Public acceptance
The house-buying public may be somewhat sceptical of MMC-built homes if they have had experience of poor-quality prefab buildings. There may still be a perception that traditional homes, built on site, are of higher quality.
4. The learning curve
Designing and building for MMC means changing the way that the industry does things — architects and engineers will need to design differently, contractors and labourers will need to upskill, and build plans will need to be amended. All of this will likely mean more time and more cost while the industry adjusts to the MMC learning curve.
Sustainability and MMC
MMC should enable lower carbon, higher performance buildings to be constructed with less waste. Here are three key reasons why MMC can help to significantly improve the building industry's environmental performance.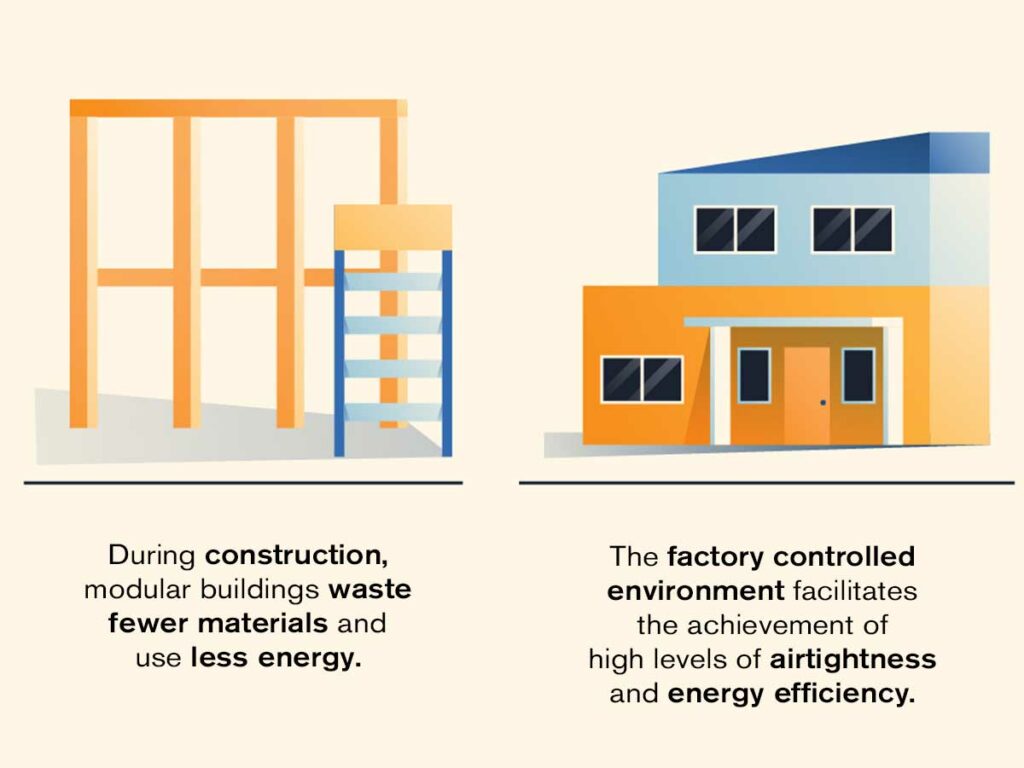 1. Low carbon
A recent study from the University of Cambridge and Napier University found that factory made homes can reduce carbon emissions by up to 45% compared to traditional build. The study examined the developments of one modular builder and found that most of the savings were attributed to a reduced requirement for carbon intensive materials like concrete and steel, and because fewer materials and workers need to be transported to building sites.
2. Less waste
The standardised, repeatable nature of factory production means more precise quantities of materials can be used, and less construction waste generated. Any waste material can be more easily re-used in production processes, too.
3. High performance buildings
The controlled and comfortable factory work environment makes it easier to achieve high levels of airtightness, as well as to ensure correct fitting of insulation, and to deliver the high level of craftsmanship needed for high performance building standards such as passive house and NZEB.
In conclusion
As you can see, MMC has the potential to bring dramatic change to the construction industry and to deliver large quantities of housing while increasing quality and slashing carbon footprints. However, it still has big challenges to overcome before it becomes the main way we build our homes.

If you would like to learn more about MMC, check out the Building Performance Interactive video series from Passive House Accelerator and Partel, which takes a deep dive into specific MMC case studies with industry experts.