HEALTHY INTERIOR INSULATION AND CLIMATE REGULATION – Epatherm Calcium silicate insulation
Problems with mould and moisture?
We believe that internal insulation practices are often under designed – particularly in the area of single skin masonry walls. While we acknowledge the need to upgrade older buildings we need to have certainty that we are doing is both safe and cost-effective. Epatherm calcium silicate climate boards offer a long term solution to the problems we are experiencing with this type of retrofit.
Single leaf masonry buildings are generally not suited to current accepted methods of insulation. The most widely used method; internal drylining using insulated plasterboard can often create the ideal situations for condensation, mould and eventual health problems. With the epatherm system you can choose a long lasting solution that saves money, prevents mould and creates a comfortable climate for you and your family.
The solution – EPATHERM INDOOR CLIMATE BOARDS – COMFORTABLE CLIMATE FOR YOU AND YOUR FAMILY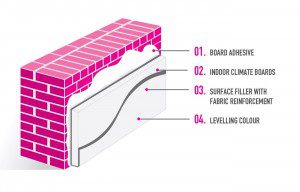 Moisture and mould can be prevented by the combination of an effective climate regulation; Epatherm indoor climate boards balance temperature and moisture differences perfectly. Moisture in the air is absorbed by the pores of the capillary active Epatherm boards rather than condensation. As soon as the room climate has normalised the moisture is released back to the room. The board surface remains dry and free of mould.
Characteristics and Advantages
Epatherm indoor climate boards are purely mineral and consist of lime, quartz sand and water. A high pH-value prevents any new mould. They are incombustible and have excellent noise reducing effects. Epatherm are eco-friendly and can be applied relatively easily.
Sentinel-Haus

Epasit – the manufacturers of the epatherm complete system are the only manufactures of indoor climate boards who have been examined by the Sentinel-Haus Institute and who are recommended as a consultancy for building projects according to the Sentinel-Haus concept. The renowned institute offers architects, building owners and fabricators a contractually guaranteed high-quality indoor air – a guarantee unlike any other for building materials. For the epic challenge to modernise buildings epasit offers professional and healthy system components that contribute to making healthy homes.

Technical Data