The tragic Grenfell Tower fire in 2017 upended perceptions of fire safety in high-rise buildings. The inquiry into the blaze found that the building's aluminium composite (ACM) cladding was the primary factor that caused the fire to spread up the tower. The PIR insulation behind the cladding is also likely to have contributed, the inquiry concluded.
Soon after Grenfell, it became clear that other tall buildings with similar cladding were also unsafe, and by the end of April 2023, cladding remediation had either started or finished on 467 of 483 high-rise buildings in England with ACM cladding.1
But post-Grenfell, it also became clear that tall buildings with other types of combustible cladding, such as high pressure laminate (HPL), would need remediation too. The UK government estimates that there are 1,700 residential buildings in England over 18 metres high with combustible non-ACM cladding, requiring urgent remediation.
Now, the UK government says that developers must fund the remediation of combustible cladding in buildings over 11 metres high that they developed or refurbished, or face being barred from housebuilding.
The role of membranes in cladding remediation
A surge of cladding remediation projects is underway, and is likely to continue for years to come. When cladding and insulation are replaced, developers may also consider replacing other facade materials to maximise fire performance. There is a growing preference to replace façade membranes with newer alternatives that boast better fire performance.
But when specifying a new membrane, make sure not to neglect other critical performance factors such as vapour permeability, airtightness and UV stability.
In this blog post, you will learn about:
How to understand fire classifications for membranes
What fire rating is required for membranes under UK building regulations
The different types of building membranes and key factors to consider when choosing one
Condensation risk when specifying membranes for remediation projects
Maximising fire safety in high-rise façade design
Common causes of fire in buildings
In Europe, four-fifths of fatalities and injuries due to fire occur in homes. In the US, The National Fire Protection Association says that the leading causes of fires in residential properties are:
Appliances and equipment – in particular, appliances that generate heat (eg cookers, clothes dryers, heaters) and those that heat up with prolonged use (computers, fans)
Candles
Christmas decorations
Electrical systems, in particular overheated lighting, as well as faulty wiring
Smoking
Specifying fire-safe façade materials is critical — particularly so in high-rise buildings where it is more difficult to evacuate occupants and extinguish fires.
Fire-safe façade materials: key parameters that define their performance
The primary system for evaluating the reaction to fire of building materials is now the European Standard EN-13501. This is known as the Euroclass system. This represents a move away from the old British standard, BS 476.
EN-13501 measures reaction to fire in three ways:
Combustibility – the extent to which a material ignites and contributes to a fire
Production of smoke (smoke inhalation is the leading cause of fatality from fire)
Production of flaming droplets (flaming droplets result in burns and cause fires to spread)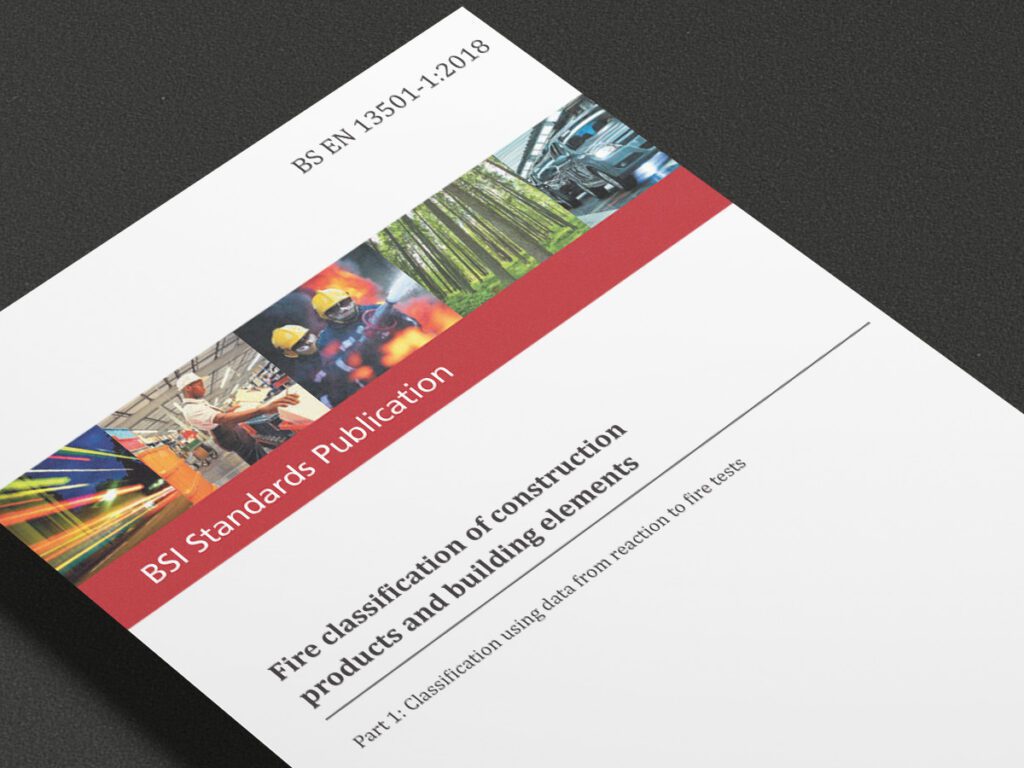 Combustibility
EN-13501 includes a series of fire tests. These measure the combustibility of a material and then assign a fire rating. These ratings are interpreted as follows:
| | |
| --- | --- |
| A1 | Non-combustible material |
| A2 | Limited combustibility (England and Wales) and non-combustible (Scotland) |
| B | Combustible material — Very limited contribution to fire |
| C | Combustible material — Limited contribution to fire |
| D | Combustible material — Medium contribution to fire |
| E | Combustible material — High contribution to fire |
| F | Combustible material — Easily flammable |
Smoke
Smoke production is classified as follows:
S1 = Little or no smoke
S2 = Quite a lot of smoke
S3 = Substantial / heavy smoke
Flaming droplets
Production of flaming droplets is classified as follows:
D0 = No droplets
D1 = Some droplets
D2 = Quite a lot of droplets
A typical fire classification for a building material is written as A2-s2,d1, giving data on all three factors.
Fire performance: what to consider when specifying external wall membranes
The UK has now introduced a ban on combustible materials in the external walls of buildings over 11 metres high. In practice, this means materials must achieve a Euroclass rating of at least A2-s1,d0. This is commonly referred to as the "ban on combustible materials". There is a less onerous requirement of B-s3,d0 for external wall membranes.
Types of membranes used in external wall construction
There are two main types of membranes used in external wall construction, breather membranes and vapour control layers. They are both intended to stop moisture from accumulating in the building fabric, where it could cause dampness and rot, particularly on organic materials.
Breather membranes are:
Installed external to the insulation layer, behind the cladding
Designed to repel water and rain and protect the building fabric from the elements
Designed to allow any water vapour that gets into the building fabric to escape or "breathe" to the outside
In some cases, contribute to a building's airtightness
Vapour control layers (VCLs) are:
Typically installed on the warm (room) side of the insulation layer
Designed to control moisture moving outwards from the room into the building fabric
Often used as the primary airtightness layer
The new generation of Class A1 and Class A2 façade membranes
In March, Partel launched two new fire-rated breather membranes suitable for use in high-rise and higher-risk projects.
EXOPERM DURO A1 is non-combustible and suitable for use on closed joint facades. This membrane ensures long-term protection of the assembly, with a highly vapour open Sd value of 0.03 m, along with resistance to water penetration, and dimensional stability.
EXOPERM MONO DURO A2 is an innovative airtight yet vapour permeable façade membrane, based on Monolithic Technology. This is Class A2-s1,d0, guaranteeing limited-combustibility, absent or very limited smoke emissions, and no burning droplets. It is suitable for use on open or closed joint facades and balances airtightness, moisture management and secondary weather protection with fire performance.
Partel also offers IZOPERM PLUS A2, a vapour control layer with a fire classification of A2-s1,d0.
Ensuring membrane performance is not comprised when maximising fire safety
When choosing a membrane for a cladding remediation project, there are other critical factors to consider besides fire performance.
What to consider when specifying a breather membrane
Water tightness: Breather membranes must be specified to stop rainwater from penetrating the wall panels during construction and throughout the lifetime of the building. A membrane with Class W2 water tightness (when tested according to (EN 1928 / EN 13859) is generally appropriate for most applications, where continuous rainscreen cladding is installed. A Class W1 rated membrane may be required in exposed sites or where non-continuous cladding is used2.
Moisture transfer: Breather membranes must meet the requirements of BS 5250, the code of practice for the management of moisture in buildings. They must be sufficiently vapour open to allow water vapour in the building fabric to escape outwards. BS 5250 defines a breather membrane as having an Sd value of between 0.05m and 0.12m .
UV Stability: If your project has open-jointed cladding, you must specify a membrane with sufficient UV resistance to remain stable and functional with long term exposure to the sun. Membranes installed under walls with open jointed cladding must pass an accelerated UV ageing test of 5000 hours according to EN 13859-2.
Windtightness: Breather membranes prevent the passage of cold or moist air into the building fabric from outside. This is particularly important for open-jointed facades, for which membranes must have a resistance to air penetration of 0.3 m3/m2/hr when tested to EN 12114. Proper sealing of the breather membrane is essential for it to function effectively.
Fire performance: Membranes in external walls of high-rise or high-risk buildings must have a fire rating of at least B-s3,d0. While it might be tempting to select an A1 membrane, it's important to consider all of the above factors, and which membrane is most suited to your structure. Best practice is to specify a membrane with the best fire classification available once other performance requirements have been met.
What to consider when choosing a vapour control layer (VCL)
Moisture management: Vapour control layers are installed on the warm side of the insulation and prevent the movement of moisture from the inside of a building into the building fabric. This prevents dampness and mould. Proper sealing of the VCL is essential.
Airtightness: Vapour control layers are often used as the primary airtightness layer, especially in timber frame or MMC projects. Airtightness prevents heat loss and cold draughts.
Fire performance: Best practice is to specify a membrane with the best fire classification once other key performance requirements have been met. Partel's IZOPERM PLUS vapour control layer offers a fire classification of A2-s1,d0 and is suitable for use in high-rise and higher-risk buildings.
Is condensation risk analysis required in façade renovation and upgrade projects?
Depending on the build-up of your new façade, it may be advisable or even necessary to perform a hygrothermal assessment for condensation risk.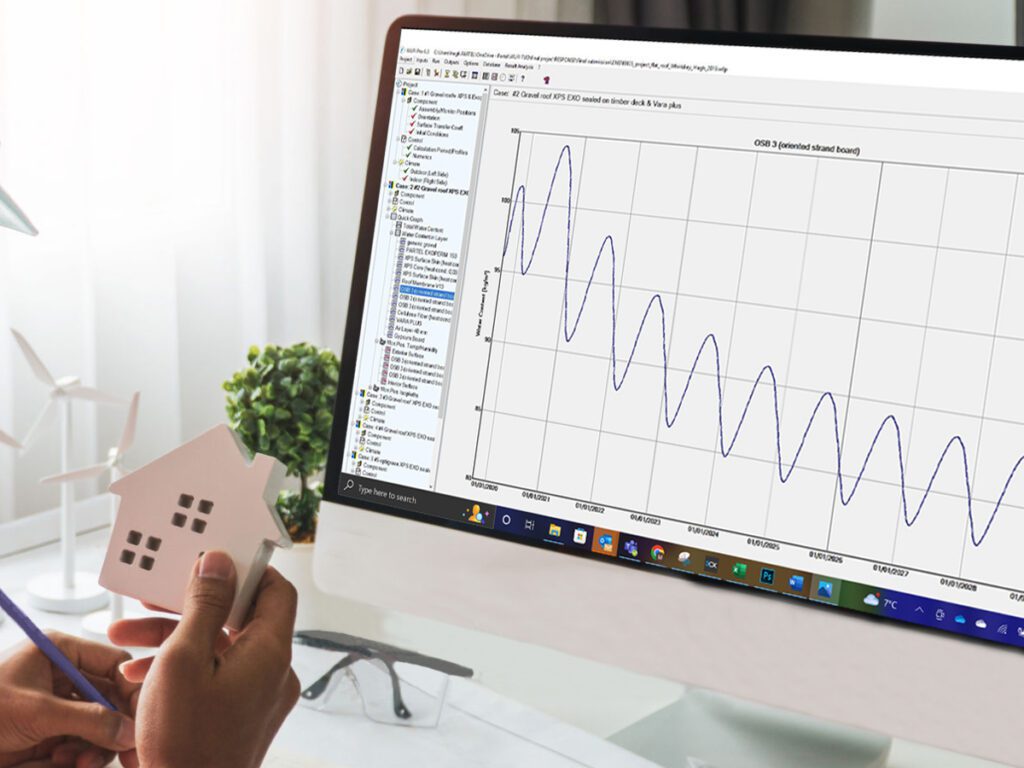 What is hygrothermal assessment?
"Hygro" refers to moisture and "thermal" refers to heat. Hygrothermal assessment uses computer modelling to simulate the movement of heat and moisture in a building. It can show how both are likely to behave in a particular build-up depending on internal and external (weather) conditions. It can thus help to evaluate whether build-ups are at risk from condensation and mould.
Why hygrothermal assessment is important in renovation and upgrade projects
Façade retrofits may exacerbate the risk of condensation and mould if moisture is not carefully considered at design stage. Retrofitting can alter the location of the dew point, the point in a build-up where the temperature drops enough for water vapour to condense to liquid. Performing a condensation risk analysis can help to ensure your new build-up is moisture safe.
The benefits of using the WUFI method for hygrothermal assessment
Partel offers dynamic condensation analysis using the WUFI software, which was developed by the Fraunhofer Institute for Building Physics. WUFI offers a number of advantages over traditional condensation analysis tools like the Glaser Method. These advantages include:
WUFI can simulate more realistic and more detailed building conditions
It provides dynamic analysis and can simulate the moisture content of specific building elements, along with temperature and humidity, over long periods of time
WUFI considers the moisture content throughout a material, as well as at the interface between materials
Future proofing façade designs
What is the potential for further regulatory change for membranes?
The minimum fire rating required for membranes in the external walls of mid and high-rise buildings is B-s3,d0, lower than the A2-s1,d0 required of other components. This lower threshold for membranes was introduced because of the difficulty of producing a non-combustible membrane that could also meet breathability standards under BS 5250. However, there are now A-rated membranes on the market that meet BS 5250 for breathability, so the target for membranes may be tightened in future. Specifying a membrane with as high a fire rating as possible, once other performance criteria have been met, will help to future proof your façade.
References