Partel is excited to announce from September 2021 a new premium packaging and label design for the VARA FLUID smart airtight system, commencing in Ireland and extending to selected markets where the company operates – USA, UK, and mainland Europe.
Sustainability is one of Partel's core pillars and a key part of the company's research and development strategy. As a company committed to green and low-carbon building materials, we strive to reduce the environmental impact by increasing the recyclable content in packaging materials.
Both Partel VARA FLUID components are packaged in a recyclable metal container prioritising durability and safety, whilst maintaining the product's quality and technical properties. Additionally, the metal packaging delivers improved functionality for the fluid applied membrane by extending the shelf life and better protecting the content on long term.
The container is extremely durable and ideal for transit due to its robust design and material, which incorporates a lid with a lock ring.
The product quantity has been increased from 5 kgs to 5.5 for VARA FLUID Brush and 10 kgs to 11.5 for VARA FLUID Spray. This will help improve the on-site application, making the installation process faster and more effective.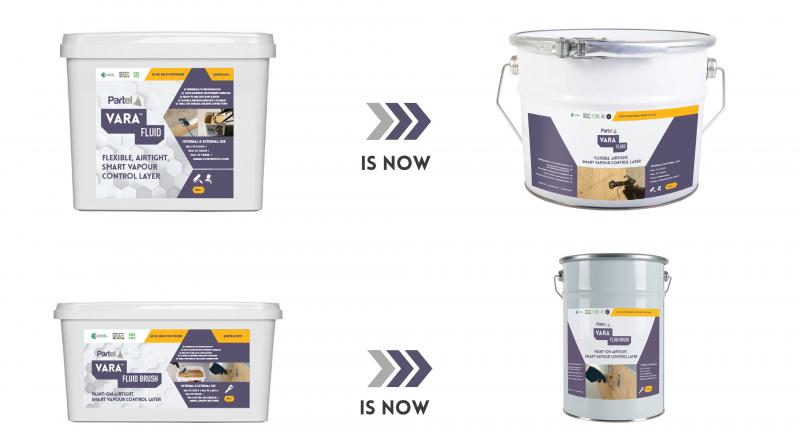 By switching to metal packaging, we not only eliminated a significant amount of single-use plastic but also made it easier for our customers to recycle.
Our new labels will provide customers with information that is more detailed and make the application process easier when scanning the QR video code.
"As the company continues its expansion, we are committed to continuing to further invest in providing robust and sustainable packaging solutions for the benefit of building industry professionals and a better-built environment." Hugh Whiriskey, Founder and Technical Director at Partel.
"Due to the scale of this project, it will take some time to transition VARA FLUID products to the new packaging. We will continue to sell through current stock in existing packaging over the next months, so builders will likely find both old and new versions on the shelf at the same time. Inside, our premium quality formulations remain the same, so our customers can feel comfortable choosing either." says Iulia Potor, Marketing Manager at Partel.
Partel VARA FLUID is a water-based, permeable air and vapour control layer (AVCL) that can be brushed, roller applied, or sprayed on to form a seamless airtight and vapour tight barrier around penetrations and general construction joints.
For more than a decade, Partel has been producing and supplying high-performance sustainable airtight systems that meet the modern construction industry's needs. This belief motivates us to maintain a responsible value chain by committing to more environmentally friendly solutions.
To get more information about VARA FLUID range, visit the product specifications on our website or email us at [email protected].