ACRAPRIME LIQUID is a solvent-free primer – GEV EMICODE EC1 PLUS certified, recommended for porous surfaces to enhance the adhesion of all acrylate, butyl, and bitumen adhesive tapes, on most common substrates.
Seal integrity is of utmost importance, the new ACRAPRIME LIQUID packaging is re-closable, with a hermetically sealed cap that ensures longer product life of 24 months and prevents accidental spillage during transport. This new smart non-stick screw cap design allows frequent opening and closing, even in extreme conditions, without compromising the quality and avoiding leakage, which makes it easier to handle and apply.
It can be used on a variety of surfaces, including concrete, plaster fireboards, stone, brick, masonry, fibrous soft fibre board substrates, wood products, and other building materials.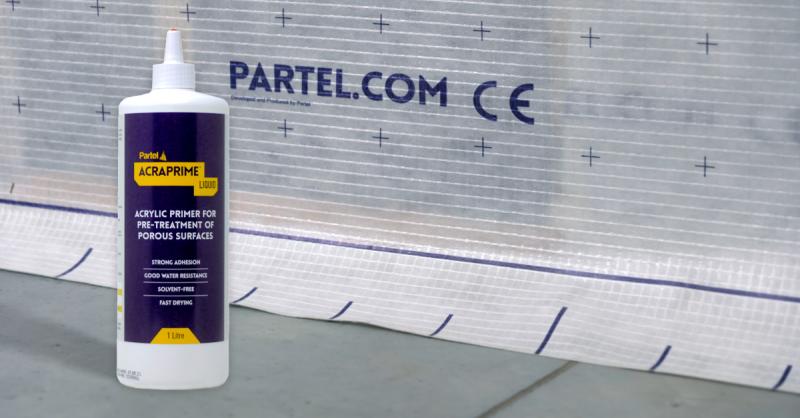 Thanks to the new packaging, installation is immediate with the nozzle as it can be  used to apply directly on the substrate, then it can either be brushed using a paint brush, a roller or you can simply make marks using the nozzle as your applicator. Available in 1 kg cans, it has a yield of 5 m² per can.
Additionally, the packaging has also been changed into a handy round bottle, making it easier to use than from the tub.
After the primer is dried fully, it became permanently tacky and 100% transparent. At this point, the Partel tapes or adhesives can be applied with some pressure to improve adhesion. It is ideal to be used with VARA SEAL, CONEXO MULTISEAL, and CONIZO tapes.
Of particular significance is the low-odour, and very low-emission formulation, which assists with a more comfortable and healthier built environment, a critical feature for manufacturers of high-end materials.
For more than a decade, Partel has been developing sustainable adhesive solutions that are smarter and more adaptive to modern construction challenges. From our online stores to authorized distributors and stockists, Partel's ACRAPRIME LIQUID can be found everywhere.
To get more information about Partel's products please contact us on our website or by email at [email protected].