Project Information
Partel Supplied LUNOS Decentralised Ventilation Systems were chosen for enhancing energy performance and indoor air quality of a new mixed-use development scheme, located at a prime position in Old Town Swindon, UK.
Due to the growing importance of good indoor air quality and low power consumption, LUNOS Mechanical Ventilation Systems with Heat Recovery are becoming more prominent in new low-energy development projects as they meet the requirements specified in the Part F Building Regulations and provide occupants with adequate ventilation while reducing domestic energy costs and contributing to national reductions in energy consumption and carbon emissions.
Key Information
The major goals of the design stage simulations were to analyse the thermal comfort in the building for the summer and winter seasons, as well as to confirm the positive energy balance by evaluating the structure's energy performance.
To make the project a success and achieve the above-mentioned objectives, the developer used extremely quiet operating noise and high energy-efficiency class; LUNOS e260 and LUNOS Nexxt Units. These units deliver excellent air quality, automatically controlled by the inbuilt humidity and temperatures sensors.
The LUNOS e260 was installed in bedrooms and living areas throughout the apartments; the intelligent control system utilises a ceramic regenerative heat exchanger to offer continuous ventilation without the use of ductwork. Using the LUNOS e260 system resulted in an average savings of 15.5 percent in the SAP Calculations for the DER (Dwelling Emission Rating).
The SAP estimates also revealed an average 24 percent savings in the space heating requirement of each apartment.
LUNOS Nexxt; a decentralised HRV unit achieving a heat recovery rate of up to 83% was used in the commercial units of the development establishments. This automatic control system is equipped with humidity-temperature sensors, ensuring efficient ventilation with moisture protection.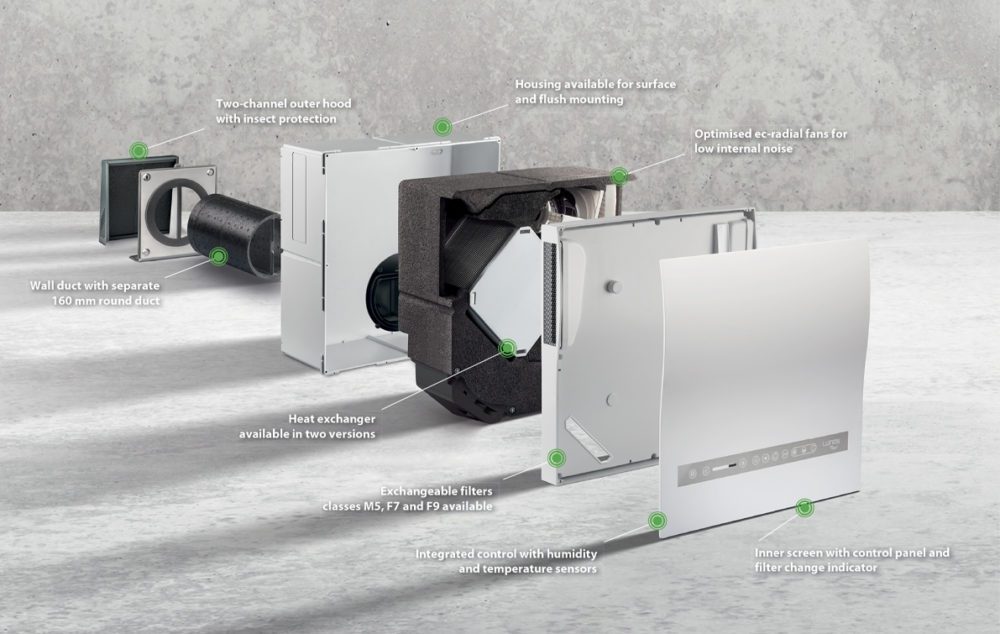 Furthermore, thermal comfort results indicated that LUNOS substantially lowered the risk of overheating, decreased peak summertime internal temperatures, and provided greater control over the overall indoor environment.
The developer was impressed with the units as they were installed quickly and efficiently with minimal disruption to the project timeline.
Overall, the energy-efficient LUNOS ventilation system now regulates room temperature while providing the required amount of fresh air, lowering CO2 levels, and giving occupants more control over the interior climate.
Our technical experts will design the best ventilation approach based on your needs, if you would like to know more about how we and our products can enhance your project, feel free to contact us.