Partel's CONLEX BUTYL tape brings new technical improvements for a premium performance in low-carbon construction. This advanced, extremely versatile, highly flexible, air and watertight sealing tape was introduced as a solution for protecting building fabric and timber from water damage and rising damp.
Flexibility and strength are key to perfect seals
The flexibility of this premium butyl rubber base layer of the tape allows it to be pulled, stretched, and moulded around corners, junctions, curves and penetrations to create perfect seals. The combination of its advanced adhesive properties and low restoring forces mean that once stretched and manipulated to suit the detail being sealed, CONLEX BUTYL won't contract back to its original form; hence enabling it to maintain its excellent air and watertight properties.
The all-in-one solution
CONLEX BUTYL is easy to work with and can be considered as an all-in-one solution, due to its multiple application uses. Available in four widths, it is suitable for both internal and external use to create permanent air and watertight seals at windows, doors, wall junctions, pipes, sill and door flashings, parapets and other geometric or irregular shapes. In addition, it is compatible with all Partel membranes and bonds to timber, concrete, plaster, masonry, steel, OSB, aluminium, PVC.
Hugh Whiriskey of Partel said, "Featuring extremely strong adhesion, high shear strength, water resistant properties and equipped with unmatched flexibility even under extreme humidity conditions and varying temperatures, CONLEX BUTYL Tape is designed to provide an outstanding versatile and effective solution for perfectly sealed construction."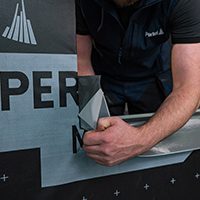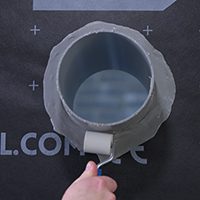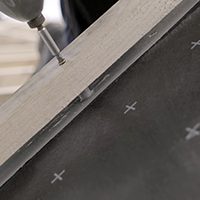 Stringent Testing ensures top-notch quality based on improved technical benefits
Strength – The advanced adhesive performance of CONLEX BUTYL is characterized by its tensile strength of 25N/50mm, 180 peel adhesion of 22N/cm and probe tack of 2N.
Durability – CONLEX BUTYL tape is resistant to weathering and can withstand temperatures ranging from -30° to 90°, frost and UV radiation.
Water Resistant & Airtight – It offers excellent water resistance and meets the water penetration W1Class; it also achieved a result of an< 0.1 for airtightness. Partel CONLEX BUTYL is used for airtight sealing according to Part L and DIN 4108-11.
Environmentally friendly – 100 % solvent free with very low emission achieving the EC1 Plus and A+
In short, CONLEX BUTYL is suitable for use in high-performance building and construction. Available in four widths this versatile tape is extremely durable with excellent flex qualities, capable of withstanding temperature extremes and volatile moisture conditions and can adhere to a wide variety of substrates.
CONLEX BUTYL tape is currently available in the Ireland, the UK and Mainland Europe; it will be available in North America from mid-July. Contact a member of the Partel team to discuss requirements for your next project or shop online for the optimal protection for your building envelope.