What is EEBS?
The construction and operation of buildings account for almost 40% of energy use. By 2030, all new buildings must be practically energy-neutral.
The Energy Efficient Building Seminar (EEBS) provides a comprehensive approach to sustainable building design and construction in accordance with the requirements of nZEB.
Making the right choices regarding the design, materials, and construction of a building will help reduce the amount of energy consumed throughout its lifetime.
The EEBS seminar planned for 2020 as an in-person event, will take place this year as a fully online live event from February 25 to March 16.
About this Event
Partel in partnership with KORE, Daikin, NorDan, Harmony Timber Solutions and Lunos are responding proactively to the recent changes to the building regulations by hosting a series of online nZEB related seminars.
Bringing together experts from across the building industry, the seminars will present a series of envelope and building performance solutions that will help you achieve nZEB standards for both new-build and retrofit projects.
Date: February 25 – March 16, 2021
Time: 1:00pm GMT
Live Online Event | Free to Attend
Why you should attend?
The EEBS will showcase the very best in design, construction and compliant solutions that meet and exceed the recent changes to Parts L & F of the TGD's
Gain valuable insights into how Insulation, Airtightness, Heating and Ventilation systems, Windows, Thermal Bridging solutions and Timber Construction, can and should be used to achieve nZEB in both residential and non-residential buildings
A unique opportunity for Architects, Engineers, Designers, Specifiers, Developers and Building professionals to learn and be inspired by members in the green building industry
Each seminar will provide the best principles, practices and illustrative case studies that show how a range of innovative products can be used to accelerate building energy performance
Reduce the energy demand of buildings in a cost-effective manner
Tailored technical expert advice
Certificates of attendance available upon request
CPD points available
Product Sample Pack*
Networking opportunities with fellow professionals
Online CPD Seminar Structure
The Online CPD Seminar will be 30-40 minutes comprising of live virtual learning sessions featuring theory-based informative presentations, case studies, and opportunities for Q&A discussion.
Programme Overview
SESSION 1 | Thursday, Feb. 25 @1:00pm
METHODS AND APPLICATIONS TO IMPROVE AIR & WIND TIGHTNESS, THERMAL BRIDGING
Air/Windtightness and Building Regulations
Achieving an Air/Windtight building structure
Condensation dangers and their impacts
Ventilation considerations
Smart moisture management
Conventional Details for Irish Construction
Material spec for specific Airtightness applications
Types of Windtight barriers advantages and disadvantages
Designing out Thermal Bridge
Speaker: Hugh Whiriskey, Technical Director, Partel
SESSION 2 | Tuesday, Mar. 2 @ 1:00pm | EPS INSULATION SOLUTIONS
KORE EPS solutions that meet Part L 2019 (nZEB) for residential, commercial and public buildings – KORE Insulated Foundation System, KORE Floor Insulation, KORE Fill Cavity Wall Insulation, KORE Fill External Wall Insulation, KORE Loft Insulated Attic Flooring System, KORE Lock Warm & Cold Pitched Roof Insulation
Real-world case studies and examples of KORE EPS solutions in action
An overview of KORE Technical Services
U-value calculations
Condensation risk analysis
Thermal bridging analysis
Temperature factor analysis
On-site visits
Online resource centre
Speaker: Andrew Butler, Technical Business Development Manager, KORE Insulation
SESSION 3 | Thursday, Mar. 4 @1:00pm | HEAT PUMPS SOLUTIONS
Heat pumps that meet nZEB standard and their advantages
Design fundamentals and commissioning
Variables (back stop values) that have to be met and can have a determining factor in achieving the building regulations when producing an energy rating document/BER assessment
HP calculation tool to be used by BER assessors in calculating the heat pump heating and hot water efficiency
Speaker: Ian Killoch, Heating Sales Engineer, Daikin
SESSION 4 | Tuesday, Mar. 9 @1:00pm | WINDOWS – IDENTIFYING THE WOOD FROM THE TREES
Glazing Timelines
How to Specify Timber & Aluclad Windows
Regulations & Guidelines
Difference in preservation methods
Certifications
Speaker: John McMenamy, Technical Manager, NorDan
SESSION 5 | Thursday, Mar. 11 @1:00pm | TIMBER FRAME CONSTRUCTION
Offsite nZEB compliant system
– Airtightness
– Thermal Bridging
– Wall & Roof insulation options
Roof Truss systems
Factory Quality Control for Construction
Speaker: Martin Williams, Sales Director, Harmony Timber Solutions
SESSION 6 | Tuesday, Mar. 16 @1:00pm | VENTILATION SOLUTIONS
NZEB Part F changes – What does it mean?
CMEV / Demand Controlled Ventilation
Heat Recovery Ventilation
Decentralised & Centralised Ventilation Solutions
Speaker: Hugh Whiriskey, Technical Director, Partel
FINAL PLENARY | Tuesday, Mar. 16 @2:00pm
Speaker: Jeff Coley, Editor, Passive House Plus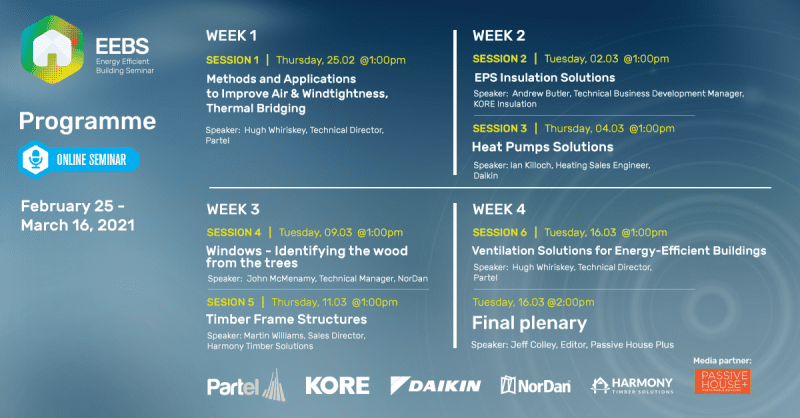 *Product Sample Pack. Each participant has the option to receive a Product Sample Pack with Partel's most popular building components discussed in this seminar. To register your interest, please visit: Request Sample Pack.
This CPD seminar will be held online via Zoom platform. You'll receive a Zoom link to attend once you've registered for the event. By clicking on the Register button, you submit your information to the EEBS organizer, who will use it to communicate with you regarding this event and their other services. For additional questions or enquiries please email [email protected].
Accelerate towards the nZEB standard and register FREE today at Eventbrite