Passive House Accelerator returns with Building Performance Interactive, Season Two.
The Building Performance Interactive (BPI) – Design it. Shape it. Build it. provides a series of interactive seminars, focused on a collaborative approach to modern methods of construction, and how offsite techniques can deliver a new generation of quality, low carbon, energy efficient homes.
Season Two …
The program developed in collaboration with Passive House Accelerator, provides an excellent platform for getting up to speed with Passive House design principles, nZEB (nearly zero-energy building) techniques, and other high-performance building methodologies that can help ensure compliance with the increasingly rigorous building standards throughout the UK, Ireland and Europe. Join us for a live and interactive discussion of modern methods of construction and the innovative technologies that will ultimately create the path to net zero.
Each episode will be 60 minutes comprising of live learning sessions featuring informative video and technical presentations, case studies, roundtable, and opportunities for Q&A discussion.
Why not revisit some of the episodes from season 1.
Co-hosts
Hugh Whiriskey will serve as one of the three co-hosts of the series, along with Mike Jacob and Ben Adam-Smith. Whiriskey is the Founder and Technical Director of Partel, with a strong background in low-energy construction, sustainable design, building physics, and technical product training. Jacob is a Reading-based chartered construction manager and co-founder of KISS House, a custom-built home provider. Adam-Smith is a self-builder, a well-known producer of podcasts and videos on construction and Passive House design.
Though the case studies will draw from projects in the UK, Ireland, and Europe, the discussion about building performance, design solutions, sustainable building materials, and lessons learned will be universal and applicable to a global scale.
Tradespeople, contractors, engineers, architects, consultants, and self-builders from around the world will be able to tune in and learn about low-energy buildings live from industry experts.
Episode Three – Retrofitting and remodelling a timber-frame house to EnerPHit standard – Available To Watch Now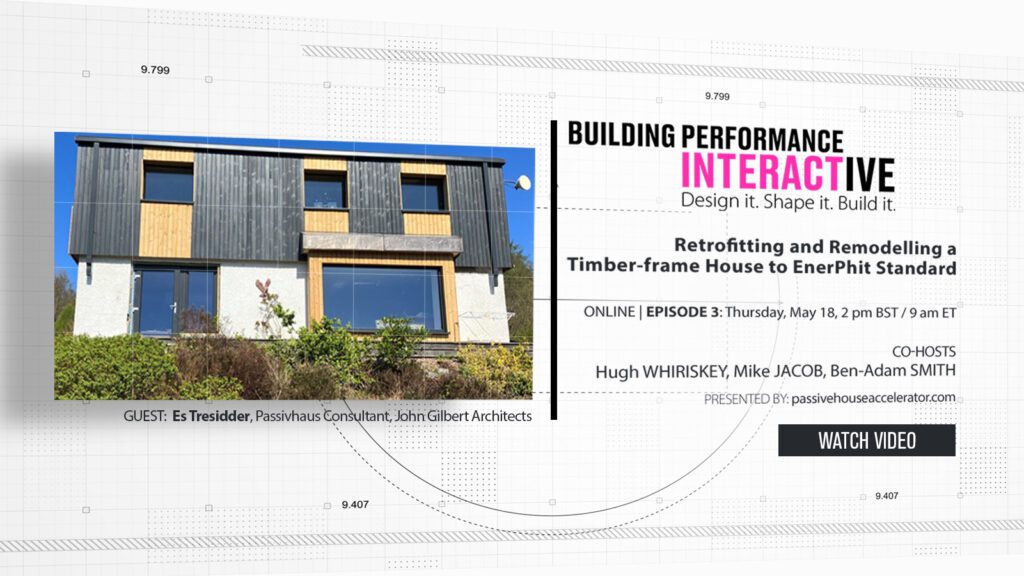 The third episode "Retrofitting and remodelling a timber-frame house to EnerPHit standard", will provide lessons and thoughts on DIY deep retrofit and radical remodelling for space and amenity.
We will visit a 1975 timber frame house, in the western highlands of Scotland, that has been retrofitted to EnerPhit standard, to speak with Es Tresidder, Passivhaus Consultant of John Gilbert Architects, and Ben Adam Smith, self-build expert. They will take a critical look at what worked well on the project, what could be done differently, and the scope for a DIY-led approach to deep retrofit of this building type.
To our knowledge, this is the first deep retrofit of this sort of timber frame house in the UK, and perhaps the first EnerPHit of this type of house worldwide.
Guest: Es Tresidder, Passivhaus Consultant, John Gilbert Architects
Episode Two – Structural Fire Safety Testing in Offsite Manufactured Energy-Efficient Buildings – Available To Watch Now
The second episode will explore "Structural Fire Safety Testing in Offsite Manufactured Energy-Efficient Buildings".
Co-hosts will welcome Declan Wallace, CEO of Evolusion Innovation, to discuss the large-scale structural fire safety tests that demonstrate fire resistance in offsite manufactured buildings, provide an insight into the design of a typical fire rated wall in various construction types, and explore potential future changes in legislation. Additionally, we will get to see examples world-class projects achieved with offsite manufacturing.
Guest: Declan Wallace, CEO for Evolusion Innovation
Episode 1 – Available To Watch Now
The first episode explores a popular topic "Offsite Construction Meets Growing Demand For Better Buildings". This session features a live interactive focus on modern methods of construction and how offsite construction techniques not only meet current building standards, but demonstrate genuine technological innovation on the path to net zero.
Co-hosts Hugh Whiriskey and Ben Adam-Smith will welcome Pat Kirwan, Des O'Donnell and Brian Kennedy to provide an overview of modern methods of construction (MMC): structural panelised; modular; and volumetric modular. They will explore the advantages these offer in terms of meeting current building standards, their potential for technological innovation, and the environmental benefits they provide. Furthermore, they will discuss the challenges facing the sector, the design, manufacturing and build process of light gauge steel frame (LGSF) systems, the key drivers for developers looking to use MMC, and how different types of offsite techniques – timber frame and steel frame – are being adopted for different market sectors.
Guests: Pat Kirwan, Director, Head of MMC Delivery for C&W O'Brien Architects; Des O'Donnell, Technical Director for C&W O'Brien Architects; and Brian Kennedy, Managing Director for Vision Built.